Leading university in the MENA region
The Vision & Mission
Vision
Abu Dhabi University will be a leading university in the MENA region, providing graduates with the knowledge, skills, and mindset to become leaders of tomorrow, and engaging in research and innovation that make a difference to society.
Mission
We aim to transform society through:
preparing graduates for dynamic careers through life-changing, technology-enhanced, internationally accredited, world-class education
research and innovation that enhance academic disciplines and contribute to societal development and economic growth
mutually beneficial collaboration with our stakeholder communities

Highest standards of performance
Our Values
Fulfilling learning experiences
Key Pillars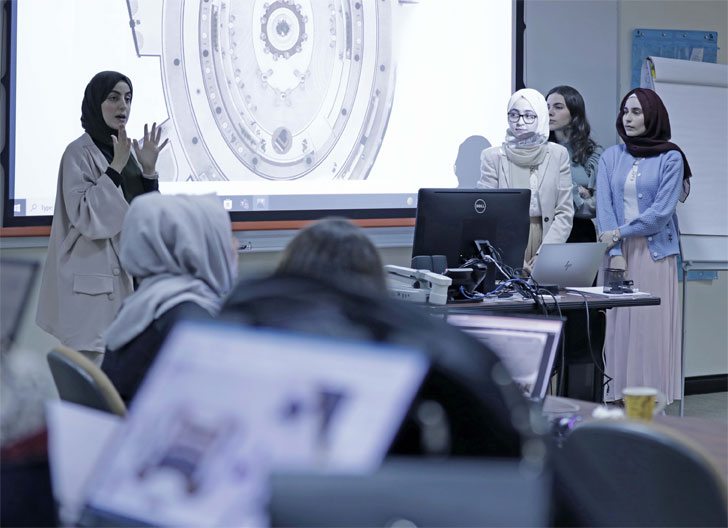 Student Success and Experience
At Abu Dhabi University, students are at the heart of everything we do. We enable students to realize their full potential through supportive in-person and online learning environments, fulfilling and vibrant campus life, and co-curricular and extra-curricular activities. Our learning environment supports our students to thrive and develop into career-ready professionals able to effectively contribute to the economy and society.
Teaching and Learning
Students, alumni, and partners know and value us for our excellent teaching, our international outlook, and our delivery of fulfilling, high-quality, flexible programs relevant to the needs of today and tomorrow. We employ effective research-informed teaching and learning methods to deliver our high quality, internationally recognized degrees, and develop and nurture strategic partnerships to enhance our academic reputation, brand value, and reach in both face-to-face and online delivery modes.
Research and Innovation
Our research contributes to knowledge creation, teaching and learning, the economy, and society. Our commitment to research and discovery ensures we are innovative in our programs, advanced in our teaching methods, and relevant to the markets and customers we serve. We contribute to the socio-economic agenda with targeted research and creative solutions that address our partners' needs, and promote research and innovation aligned with program priorities.